New walking and cycling link opens to Meridian Leisure Park
New walking and cycling link opens to Meridian Leisure Park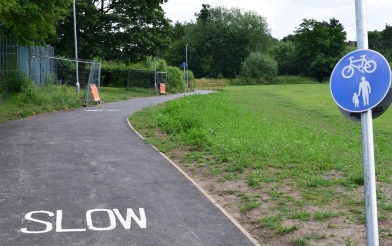 One of the most important sections of a major £1.2 million scheme to improve walking and cycling routes in the District has been officially opened.
The new link will allow people from Braunstone Town to leave the car at home and instead quickly and easily access the Meridian Leisure Park by foot or by bike. The new access point is at Meridian Leisure Park, located between the Cinema and Chiquitos restaurant. See the area map for more details
It's one of the first parts of the multi-agency scheme to be fully completed. Work is continuing on various other routeways which will improve connectivity in the District and between New Lubbesthorpe and Leicester city.

These include routes at Mossdale Meadows, Murby Way and Foxon Way, Kingsway and Aylestone Meadows as well as improvements at Meridian Way roundabout.

The scheme involves Blaby District Council, Leicester City Council, Leicestershire County Council, Braunstone Town Council, Lubbesthorpe Parish Council, Sustrans and Meridian Leisure Park.

Funding has come from the Leicester and Leicestershire Enterprise Partnership (LLEP), Blaby District Council, Leicester City Council, Sustrans (from the national Paths for Everyone scheme) and Leicestershire County Council.

Councillor Nigel Grundy, Blaby District Council's Portfolio Holder for Neighbourhood Services and Assets, said: "This project is a win-win, as it supports our commitment to the green agenda and also our commitment to encouraging people to be more active and healthy through walking and cycling. 
"It's a pleasure to see the official opening of the new Meridian Access Point link which is one of the most important parts of the whole scheme. I'm sure people can't wait to use this new link which will mean they can easily walk or cycle to the Meridian Leisure Park rather than having to get in the car and drive round to the main entrance.
"This link and the whole project are a great example of multiple partners coming together to create walking and cycling routes which will benefit residents for many years to come. I'd like to thank officers for their hard work in securing the funding and getting the scheme to this exciting point."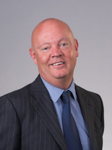 Councillor Nigel Grundy
Portfolio Holder for Neighbourhood Services and Assets




22 June 2023
Did you find what you were looking for on this page?