Rail freight hub consultation response resubmitted
Rail freight hub consultation response resubmitted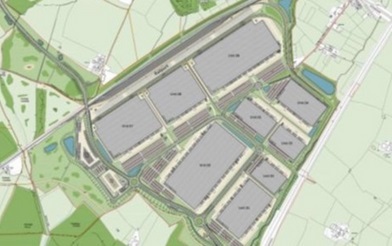 Blaby District Council has resubmitted its response, stating consultation has been inadequate, on plans for the Hinckley National Rail Freight Interchange (HNRFI).
The application, from developers Tritax Symmetry, was lodged with the Planning Inspectorate on 03 February 2023.
It was withdrawn at the start of March as the Inspectorate needed further work carrying out on greenhouse gas emissions and embodied carbon from proposed highway works.
The resubmission kicked off the acceptance phase once more with Blaby District Council again asked to comment on whether it believes the developer's consultation on the plans was adequate.
This document has now been sent in. It sets out significant concerns that the consultation was not adequate and falls short of the standard expected.
The HNRFI scheme, earmarked for 662 acres of land between the M69 and the Leicester to Birmingham railway line, falls mainly within the boundary of Blaby District Council, south-west of Elmesthorpe village.
While Blaby District Council can comment on the application it does not make the final decision. The scheme is considered of such scale and national importance it will be determined by the Secretary of State for Transport.
The Council's Adequacy of Consultation Representation says:
Incomplete, inaccurate and vague information has been provided and requested information remains outstanding
The Applicant's approach is inconsistent with government guidance and the legal principles of consultation
While the Statutory Consultation began January 2022, the highways modelling inputs were not agreed until March 2022. The impacts and mitigation are still not agreed and may change, and there has been premature and inadequate consultation in this regard
There is incomplete information on the need for and operation of the development as a rail freight interchange
The impacts of increased barrier down time at Narborough Level Crossing, including detrimental air quality for residents, have not been satisfactorily considered
The landscape impacts have not been adequately mitigated
Cat Hartley, Group Manager for Planning and Strategic Growth said: "There has been no meaningful consideration of the consultation responses by the applicant. During our review of the consultation documents we found essential evidence and information were either not there or presented incompletely.
"We have made frequent requests for extra information, both in writing and verbally during working groups and at other meetings and this has not been forthcoming. Our view is that incomplete, inaccurate and vague information has been provided and information requested remains outstanding."
The Planning Inspectorate has until Friday 14 April to decide whether to accept the application for consideration and determination. If accepted, the Planning Inspectorate will begin assessing the developer's plans.
There will be a six-month-long examination phase, including hearings, beginning later in the year and a decision is expected in 2024.
30 March 2023
Did you find what you were looking for on this page?