Prime Minister visits Blaby District
Prime Minister visits Blaby District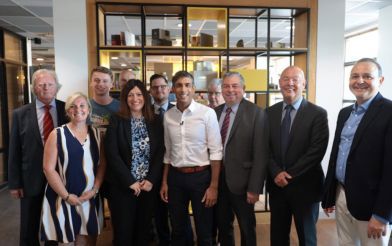 Blaby District received a special visit from Prime Minister Rishi Sunak today, Wednesday 16 August, as part of his regular PM Connect events.
Mr Sunak spent time at the headquarters of Topps Tiles on Grove Park, Enderby, to take part in an open question and answer session.
As well as Topps Tiles employees the audience included representatives from Blaby District Council invited through the office of South Leicestershire MP, Alberto Costa.
Attending were Chief Executive Julia Smith, Chairman Cheryl Cashmore and her consort and Councillors, Ben Taylor, Nigel Grundy and Susan Findlay.
When asked a question on local government by Julia Smith, the PM said he recognised the value of District Councils such as Blaby and the positive impact they have on communities.
The PM also revealed this wasn't his first visit to Blaby District – although not in any official capacity. He recalled how his grandparents were from Oadby and he remembers shopping with his grandmother at Fosse Park.
Council Chief Executive Julia Smith said: "What an absolute honour and privilege to host our Prime Minister in Blaby District – the first time I believe we may have had a PM pay us a visit.
"It was a vibrant and interesting session with the employees of Topps Tiles asking many probing questions on varied topics such as the cost of living, vitality of high streets, state of the rented sector and housing market and approach to issues in the NHS currently.
"We were delighted to be invited to this very select event, so our thanks go to Alberto Costa MP. Let's hope we may be able to host our Prime Minister back in Blaby District in the very near future."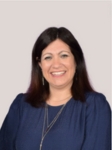 Julia Smith
Chief Executive of Blaby District Council




16 August 2023
Did you find what you were looking for on this page?