New affordable homes coming to Blaby District
New affordable homes coming to Blaby District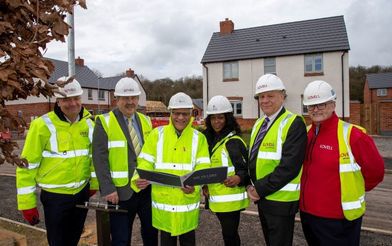 A new affordable homes development in Blaby District is being marked by the planting of a special tree in memory of Her late Majesty Queen Elizabeth II.
The Villers is built on a brownfield site formerly known as Henson Park, which was originally part of the Whittle Industrial Estate and will provide 77 new, mixed tenure, affordable homes.
The development is a collaboration between emh Group (as part of its strategic partnership with Homes England), Blaby District Council and Lovells. The Villers will provide 27 homes available for social rent, 39 for shared ownership and a supported living block of 11 flats with a communal hub and staff office.
The first of the shared ownership homes will be completed in the coming weeks with all properties anticipated to be handed over by the end of the year.
The tree will form part of The Queen's Green Canopy, an initiative created to mark Her Majesty's Platinum Jubilee in 2022 which has since been extended to provide the opportunity to plant trees in memoriam to honour The Queen.
Councillor Les Phillimore, Portfolio Holder for Housing, Community and Environmental Services, said: "We are delighted that our partnership with emh Group and Homes England is bringing more much-needed affordable homes to Blaby District. This will enable more people to access homes at an affordable rent as well as taking that important first step onto the property ladder."
The new homes will be available in a range of sizes, including one bed wheelchair accessible flats, two bed dementia-friendly bungalows and two to four bed family homes.
Chan Kataria, chief executive at emh Group, said: "We are delighted to continue our strong partnership with Blaby District Council and we have worked with them to design homes which address the range of housing needs and aspirations of local people. We are proud to have planted this tree as part of the Queen's Green Canopy, which will provide a lasting tribute to Her Majesty's reign to those families who move into their new homes here."
All homes will be provided by emh group, who will manage the sale of shared ownership homes. Those interested in shared ownership homes can contact emh at sales@emh.co.uk or call 0300 123 0918. The rented homes will be available through Blaby District Council's Housing Register.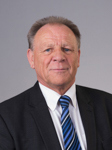 Councillor Les Phillimore
Portfolio Holder for Housing, Community and Environmental Services
20 March 2023
Did you find what you were looking for on this page?