Latest plans for New Lubbesthorpe
Latest plans for New Lubbesthorpe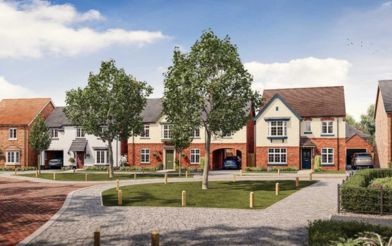 Plans for the next phase of the award-winning New Lubbesthorpe development have been submitted to Blaby District Council.
The 394-hectare community development is being created in several phases over 20 years.
This first application in Phase 2 of the development is the details for the provision of 163 dwellings. Phase 2 will provide approximately 887 new homes in total across 2 sub-phases.
An additional play area and play trail will be provided, along with an extension to Lubbesthorpe Park, an extension of Dee Way to cross the Bridle Road and a new balancing pond.
Phase 2 will also see the preliminary work required to assess the requirements for the second primary school and the secondary school.
All Phase 2 homes will be required to offer some greenery to the street scene Each residential parcel will provide ecological enhancements including hedgehog highways, along with bat and swift boxes.
Works have been progressing at New Lubbesthorpe since 2015 when ground was first broken.
The first homes were occupied in 2017 and as of February 2023 there were 871 homes occupied.
A new bridge over the M1 was built and opened in 2017 and the first of two primary schools opened to pupils in August 2019.
New Lubbesthorpe has won top national awards:
Infrastructure Project of the Year at the ProCon Leicestershire Awards 2018 - for the delivery of the M1 bridge
Housing Initiative Award in the Local Government Chronicle Awards 2019
Apprenticeship Scheme Award at the East Midlands Insider Property Awards 2019
Overall winner of the RTPI East Midlands Planning Awards 2019
RTPI National Award for Excellence in Planning 2020
The community will eventually feature some 4,250 homes served by a mixed use district centre and two mixed use local centres with shops, leisure and health facilities.
There will be a 21 hectare employment site, open spaces and woodlands and new access point to improve walking and cycling routes into Leicester City.
29 March 2023
Did you find what you were looking for on this page?