Householders save with Solar Together
Householders save with Solar Together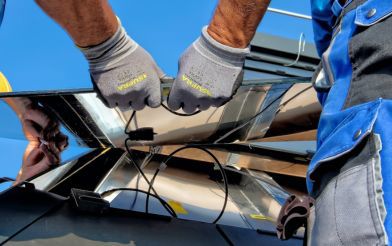 Householders across Blaby District have saved thousands of pounds on solar panels thanks to the latest round of a group-buying initiative.
The Solar Together 22 Scheme saw 460 installations, including retrofit batteries, across Leicestershire. In Blaby District there were 76. The price achieved for a typical 14-panel system was a huge 27% discount on typical market costs.
These new installations will deliver an estimated 7,385 tonnes of carbon reduction over the next 25 years.
Some 71% of participants opted to add a battery to their solar panel installation following the survey, showing a high appetite for battery storage and an increasing resident focus on self-consumption.
Solar Together sees Leicestershire Councils work together as part of the Green Living Leicestershire Partnership.
The scheme is run through group buying experts iChoosr. Authorities involved include Blaby District Council, Charnwood Borough Council, Harborough District Council, Hinckley and Bosworth Borough Council, Leicestershire County Council, Melton Borough Council, North West Leicestershire District Council and Oadby and Wigston Borough Council.
Residents sign up for free on their own Council's website and are entered into an auction. Solar PV suppliers compete by offering the lowest rate for solar panel installation. The more people who are registered, the lower the price can be.
A free, no-obligation offer is made from the successful energy supplier with a personal recommendation sent out to households. This includes information on the winning solar panel installer, the proposed system, costs and savings.
As part of the process iChoosr carries out stringent checks on any installer, looking at financial stability, customer satisfaction results, certificates and insurances, product specifications and ability to deliver.
It removes the burden of research from any householder looking to install solar panels and battery systems.
It also helps homeowners feel confident they are paying the right price for a high-quality installation from pre-approved installers, making the transition to clean energy as cost effective and hassle-free as possible.
iChoosr's group-buying offer covers solar panels with optional battery storage and EV charge points, as well as retrofit battery storage. This means residents who have already invested in solar panels can still benefit, getting more from the renewable energy they generate, as well as increasing their independence from the grid. 
Solar Together 22 has contributed an additional 1.6MW of renewable energy in Leicestershire. In Blaby District this is 279kw.
The scheme has seen some £4.3 million invested in renewable energy across Leicestershire with a figure of £450,000 for Blaby District.
Councillor Les Phillimore, Blaby District Council Portfolio Holder for Housing, Community and Environmental Services said: "This project is a great example of how Blaby District Council is working together with our neighbouring Councils, businesses and our community to bring about even greater carbon reductions and take action on climate change. With initiatives like Solar Together we are meeting the challenge of reaching net zero as a District by 2050.
"Many people may be attracted to the idea of installing solar panels but in practice it can be a daunting process. By joining Solar Together all the hard work is taken away. Householders can take advantage of expert knowledge and reduced rate installations from vetted suppliers.
"It's fantastic to see householders achieve such a significant discount with Solar Together 22. With energy costs remaining high this is great news. Of course it also plays an important role in the move to more environmentally friendly energy and real reductions in carbon emissions."
A second phase of Solar Together Leicestershire is already underway with expected additional investment in solar PV and battery storage over the coming year. For more information visit: Solar Together – Blaby District Council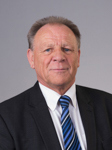 Councillor Les Phillimore
Portfolio Holder for Housing, Community and Environmental Services




28 September 2023
Did you find what you were looking for on this page?