GMB persists with illegal pay claim
Residents to suffer as GMB persists with illegal pay claim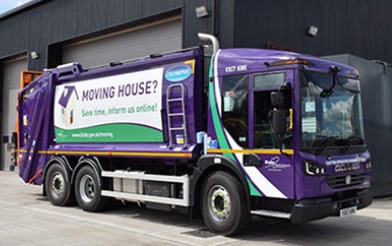 Blaby District Council expresses deep disappointment as the GMB trade union persists with industrial action over a local pay claim which the authority cannot legally negotiate.
GMB members responsible for waste collections and district cleansing, will be going on strike continuously from 1am on 1 August to 11.30pm on 18 August 2023.
The Council had hoped the GMB would halt the walkouts after recent talks offered extra employee input on job evaluations and regular welfare sessions while restating the authority has no legal mechanism to negotiate a local pay rise.
However, after a ballot of members, the three weeks of strike action has been confirmed by the union.
National pay negotiations continue with a proposed £1,925 on the table. The GMB is involved in this national negotiating process which is used by Blaby District Council as it provides better results for employees.
Despite the ongoing national negotiations, the GMB insists on seeking a local uplift of 15%, equivalent to around an extra £4,000 for each employee, in addition to the £1,925 if that is accepted nationally.
Councillor Terry Richardson, Leader of Blaby District Council stated: "I am deeply dismayed by the GMB's persistent refusal to reconsider their pointless industrial action. Despite our repeated explanations regarding the legal constraints on negotiating a local pay rise, the strikes continue. This irresponsible course of action is severely hampering essential services for our residents, and the prospect of three full weeks of strikes presents significant operational challenges."
Refuse collections will receive priority, and residents are requested to put their bins out as usual.
Recycling and garden waste should be placed out as usual, and if there are enough crews available, it will be collected.
However, if recycling bins cannot be collected due to crew shortages, there will not be any catch-up collections. Side waste will not be taken when normal service resumes. To cope with this situation, people are asked to "wash, squash, and store" their dry mixed recycling and if possible, take it to their nearby household waste tip, where it will be accepted.   Whetstone, Barwell, Oadby and Lutterworth sites will take dry mixed recycling, for opening hours please visit Leicestershire County Council's website.
Bulky item collections are being suspended during the strike period.
Cllr Richardson said: "What disappoints me most is the fact the GMB do not seem to be listening to us when we say we cannot negotiate at a local level and, even if we could, a pay rise of the magnitude they are asking for would simply not be affordable. We would have to increase the pay of every single member of staff by a similar amount.
"We have addressed accusations of being a 'low paying' Council, we offer competitive pay for HGV drivers and district cleansing roles, with salaries higher than those in most other authorities.  Additionally, the pay scale for loaders at Blaby District Council is comparable with other authorities. 
"I would again urge the GMB officials to see sense, recognise what we are saying and call off this action to avoid further disruptions for residents. At the same time, we kindly ask residents to show their support and appreciation for those collecting waste during the strike action.  These workers are not part of the strike action and are working exceptionally hard to collect your bins."
The Council appreciates the patience and understanding of residents during this challenging period.  Residents can sign up for email updates at www.blaby.gov.uk/sign-up
26 July 2023
Did you find what you were looking for on this page?