Campaign to crack down on fly-tipping
Campaign to crack down on fly-tipping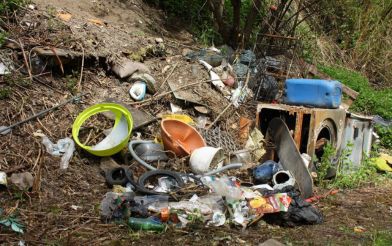 Residents are being warned to watch what they are doing with their waste as a crackdown on fly-tipping gets underway.
The Leicestershire Waste Partnership has launched a campaign to prevent people illegally dumping waste.
And the message is you don't have to be the dumper - if you pay someone to take your rubbish away and they aren't licensed then it could still be fly-tipped and you remain liable for fines.
The #ItsAllFlytipping campaign is being backed by Blaby District Council along with other authorities in Leicester and Leicestershire which are part of the partnership.
The focus is on reminding people they are being watched and eye-catching posters and social media messages are being utilised as the main thrust of the campaign.
Cllr Les Phillimore, Blaby District Council Portfolio Holder for Housing, Community and Environmental Services, said: "This new campaign will help remind people who are fly-tipping that they are being watched, they have a legal responsibility to dispose of their waste safely and failure to do so could result in a fine.
"If you are paying someone to dispose of your waste, stop and check if they are a registered waste carrier. People can sometimes be approached on social media so we would advise residents to be cautious. You can check if someone is a licensed waste collector by visiting the Environment Agency website.
"Fly-tipping is not only illegal but creates an eyesore, can be hazardous and is completely unnecessary. The partnership is committed to working together to raise awareness and highlight the impacts fly-tipping has and how it can be prevented."
The consequences for fly-tipping can range from a £400 fixed penalty notice to an unlimited fine, a criminal record or time in prison.
In 2022 Blaby District Council dealt with 664 incidents of fly-tipping and gave offenders both fixed penalty notices for littering (£150) and fly-tipping (£400).
One person was required to pay more than £1,600 in fines and court costs and received a criminal record for a fly-tipping related offence.
More information about the campaign can be found on the Leicestershire Waste Partnership website.
Here there are also the stories of four characters – based on real people who have been caught fly-tipping in the past.
The examples show that people can be caught for all sorts of reasons, from putting a fridge on the pavement to dumping bags by a local recycling bank.
People can visit flytipping and follow the campaign on social media #ItsAllFlyTipping.
Information on waste disposal and registered waste carriers can be found here: Waste 
Leicestershire Waste Partnership involves Blaby District Council, Charnwood Borough Council, Harborough District Council, Hinckley and Bosworth Borough Council, Melton Borough Council, North West Leicestershire District Council, Oadby and Wigston Borough Council, Leicestershire County Council and Leicester City Council.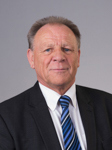 Councillor Les Phillimore
Portfolio Holder for Housing, Community and Environmental Services




17 July 2023
Did you find what you were looking for on this page?