Blaby village toilets open
Blaby village toilets open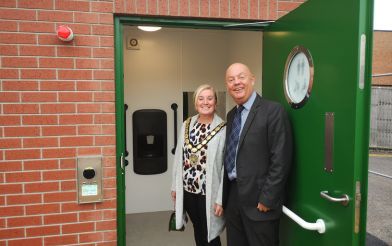 The new toilets for Blaby village will open on Wednesday 20 September. The modern, modular toilet facility at Johns Court car park features rustic, red brick cladding, steel doors and an environmentally friendly 'sedum' roof.
It includes a highly specialised Changing Places unit able to accommodate the needs of severely disabled children and adults who need extra space and assistance when using the toilet or requiring personal care.
The Changing Places unit will feature a movable hoist, large, height-adjustable changing bed, privacy screen and a height-adjustable washbasin.
The Changing Places unit will only be accessible to users who genuinely need it. Carers will need to call a dedicated telephone number to obtain a PIN code. This keeps the Changing Places toilet in a good condition for those who genuinely need to use the specialist facilities.
There will also be a separate, unisex, accessible toilet with washbasin, baby changing table and contactless entry with a nominal fee of 20p to deter misuse.
An extra disabled parking bay next to the block has been created to ensure ease of access.
Councillor Nigel Grundy, Blaby District Council Portfolio Holder for Neighbourhood Services and Assets, said: "We are all absolutely delighted to have these fantastic new toilets open to the public. The facilities are second-to-none and we hope will be of real benefit to the community, especially those people who may need to use the Changing Places unit and rely on these specialised facilities when out and about."
Dave is the site supervisor for Jeakins Weir, the firm contracted to deliver the new toilets. He also happens to have an 11-year-old son with cerebral palsy.
He said: "When our son was younger and needed personal care if we were out and about we could just about manage with baby changing units. But now he's 11 the baby changing tables are too small.
"Now when we are out we have to carry a blanket with us which we put on the floor of public toilets to be able to help our son. As you can imagine the floors are often dirty and it's far from a pleasant and dignified experience.
"If there is a Changing Places toilet though, with all the facilities we need, it is a totally different experience. Changing Places toilets make such a difference to our lives, they have been a Godsend."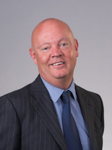 Councillor Nigel Grundy
Portfolio Holder for Neighbourhood Services and Assets




19 September 2023
Did you find what you were looking for on this page?