Blaby District Council signs climate change pact
Blaby District Council signs climate change pact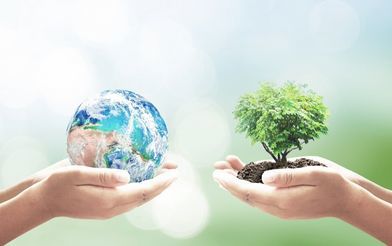 Blaby District Council has joined Leicestershire County Council and 16 other key partners and stakeholders in pledging to tackle climate change, nature decline and carbon reduction.
The Council is among the first 18 signatories of The Leicestershire Climate and Nature Pact.
The document is based on the principles of the Glasgow Climate Pact, signed by the UK government in November 2021.
It supports national and international efforts to tackle climate change by bringing together key organisations including Councils, businesses, educational institutions and voluntary, community and social enterprises to drive local action and work towards a number of shared environmental aims.
At the core of the Pact is the need to act quickly on reducing the impacts of climate change, reducing carbon emissions to net zero and halting ecological decline. As well as supporting climate recovery and working together to deliver effective action on climate change.
The Pact – which stands as a statement of intent on the county's climate action pledges – was officially launched at a signing ceremony recently.
It was attended by people from more than 40 organisations who gathered to share their ideas on how to work together towards the common goal of making Leicestershire a net zero county by 2045.
Pact members are now calling on other groups across the county to sign up and play their part in combating climate change and nature decline.
Since 2018-19 Blaby District Council's efforts to reduce cut carbon have seen emissions slashed by around 38%.
A major contributory factor has been the swap to HVO for most of the council fleet. It is anticipated this measure and other work will see a 67% reduction in emissions in the financial year 2023-24.
The Council has also been involved in key District and countywide projects including:
Solar Together Leicestershire – encouraging uptake of renewable energy generation and making it easier for homeowners to install solar panels and storage for a competitive price with a trustworthy, pre-vetted installer. The project is on track see an estimated 500 installations, over £2million private investment and 750 tonnes of CO2e saved every year. Further waves of this scheme are now being considered
Housing Retrofit – working with emh Group to deliver more than £150,000 of low carbon heating to social housing as part of the Local Authority Delivery (LAD) Scheme – Phase Two. Housing contributes around 15% of UK carbon emissions and this work is continuing with emh Group to facilitate more than £1,000,000 worth of energy efficiency improvements utilising funding under the Social Housing Decarbonisation Fund. Blaby is also part of the Green Living Leicestershire Partnership that is collaborating with EON to deliver energy efficient retrofit to some 300 homes across District/County as part of the Sustainable Warmth Competition. The total value of the project is more than £4million with Blaby District Council being awarded £532,000 to retrofit homes in our district.
Electric vehicle infrastructure - Blaby District Council along with six other Leicestershire districts have been awarded an additional £1.1million to provide electric vehicle solar vehicle charging hubs across the seven districts and Rural Car clubs at four districts. This Is in addition to Local Enterprise Partnership funding which now means the project is fully funded and requires no match funding from councils. As part of this project Blaby District Council is planning to install 12 EV chargers and solar canopy at Enderby Leisure Centre for public use.
21 March 2023
Did you find what you were looking for on this page?