Yarn creation on display for Queen's Jubilee
Yarn creation on display for Queen's Platinum Jubilee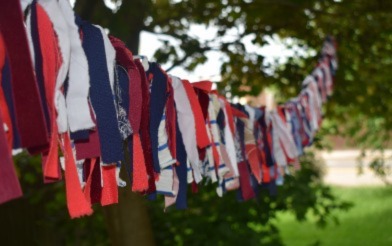 A special crafts display created by veterans celebrating the Queen's Platinum Jubilee is on display at the Blaby War Memorial.
Armed Forces personnel have been working hard on the installation during Blaby District Council's Armed Forces Coffee Mornings, funded by the Armed Forces Covenant Fund Trust. A session runs each month at the council offices, where personnel, reservists, and veterans socialise and form friendships within the community.
The handmade crafts display is available to view from Thursday 19 May, launching to a crowd of veteran, personnel and reservist coffee morning participants alongside Leader of the Council, Councillor Terry Richardson, and Armed Forces Champion for the Council, Councillor Mark Jackson.
All are welcome to visit the memorial and take a closer look at the creations, including 18 metres of red, white and blue handmade bunting, as well as a statement flag. The installation will be on display until Saturday 25 June.
Gather Create Grow, the community group behind the ever-popular Cosby Yarn Bomb, have been using their crafting skills to assist members at the community coffee mornings.
Melanie Charnock, one of the Managing Directors of Gather Create Grow, said: "At Gather Create Grow we are on a mission to use creative projects to improve wellbeing, reduce feelings of isolation and nurture community togetherness. 
"It's been a real pleasure to see every individual's contribution, hear their stories, learn about their experiences and watch the project and the group grow together."
Councillor Mark Jackson said: "We are delighted to be a part of this special event and show our support to the Armed Forces Covenant. We want to make sure all members of our community feel connected, and the Queen's Platinum Jubilee is the ideal event to come together and celebrate."
The group have also crafted sweetheart pin cushions, which are due to be displayed from Monday 20 June for Armed Forces Day until Saturday 25 June. Sweetheart pin cushions were usually made by soldiers as presents for loved ones at home during the war and are the perfect tribute to commemorate this special date in the calendar. To find out more about the coffee mornings, please contact vcshub@blaby.gov.uk.
Gather Create Grow are also preparing for the upcoming Cosby Yarn Bomb running from Wednesday 13 August to Sunday 04 September. The theme for this year is 'Make a Splash', and residents are invited to get involved and can find out more on their Facebook page. 
19 May 2022
Did you find what you were looking for on this page?