Winstanley hosts Black Roses event
Winstanley hosts Black Roses event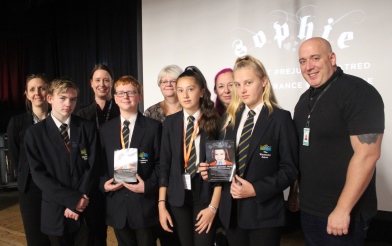 A nationally renowned event to highlight anti-bullying and hate crime has taken place in front of more than 240 students at The Winstanley School.

The screening of the award-winning film "Black Roses, The Killing of Sophie Lancaster" from The Sophie Lancaster Foundation was shown to year nine and 10 students. The film is about the death of Sophie Lancaster, who was murdered after an attack on her and her boyfriend Rob Maltby when she was 20 years old in 2007.

Pupils were shown the powerful Black Roses film, followed by a question and answer session by a special panel, including Odette Freeman, a close friend of Sylvia Lancaster OBE, Sophie's Mother. Inspector Emma Maxwell and Hate Crime Officer Isla Dixon of Leicestershire Police as well as Julian Robertson, Victim Impact Worker from Leicestershire County Council also took part in the panel.

Sophie's hate-motivated murder drove Sylvia to establish the charity in Sophie's name. This work means Sylvia is able to do all she can to challenge the prejudice and intolerance that led to Sophie's murder through education.
The event was being funded by Blaby District Council, supported with grants from the Police and Crime Commissioner Partnership Locality Funding. Black Roses was also shown to students at Countesthorpe Leysland Community College last year.

Odette Freeman said: "It was our absolute pleasure working with such a welcoming and well-organised school. The expertise of our fellow panel members helped make it a memorable day with thought-provoking, and intuitive questions from the pupils.

"Well done and great thanks to all involved."

Carol Parker, Community Safety and Prevention Team Leader at Blaby District Council who organised the event, said: "After the great response from Countesthorpe College students we are proud to have been able to bring Black Roses back to the district.

"All of the students in attendance get the chance to see how lives can be devastated and changed forever because of bullying and hate. They showed a fantastic attitude and asked important questions to the panel."

Annabel Roberts, Assistant Head of School at The Winstanley School, said: "This was an incredibly powerful and moving morning. The students were deeply affected and motivated to work together to stamp out hatred and intolerance.

The panel was highly skilled at presenting this powerful message in a positive light to empower young people to make a more tolerant society."

More information about the Sophie Lancaster Foundation can be found by visiting www.sophielancasterfoundation.com.
25 November 2019
Did you find what you were looking for on this page?