Volunteers from the community celebrated
Volunteers from the community celebrated in awards ceremony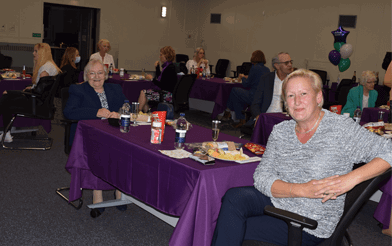 The incredible work by volunteers and voluntary groups across the district has been celebrated at Blaby District Council's special Community Awards Ceremony.
An evening in honour of the finalists was hosted at the Council's chamber on Wednesday 06 October.
85-year-old Jenny Hilton was crowned Volunteer of the Year for her tireless dedication to the Whetstone Good Neighbours Scheme, from organising transport to delivering medication and everything in between. Her support of more than 100 residents of Whetstone has made an enormous difference to her community.
Young Volunteer of the Year went to Ebony Taylor who participated in the Green Project aimed at raising awareness of environmental issues, which will be delivered to district schools and at community events.
Throughout the past year, Ebony also prepared a notable short film showcasing how to safely wear a face mask for all schools across the district, and is also a prominent member of the Blaby District Youth Council.
Gather Create Grow, the group behind the Cosby Yarn Bomb, took home the award for Community Group of the Year for their incredible work in using the event to bring the whole community together. From schools and isolated residents to local businesses, the group's efforts to deliver the Yarn Bomb aimed to give villagers a sense of belonging, and to improve mental health and wellbeing.
The Cosby Yarn Bomb is one of the most popular community events in the district, with members of the group decorating the village in yarn, and residents showing off their incredible talents.
Award runners-up included Daphne Warren, a devoted volunteer of Cruse Bereavement Care of nearly 20 years, who spends her time supporting people suffering from grief.
Keith Johnson formed the Enderby Litter Wombles litter picking group who are dedicated to keeping the area a tidy place to live through weekly and even daily rounds. Keith also visits primary schools to educate the future generations on the importance of disposing of rubbish correctly.
Community group runner-up Croft Good Neighbours offer a helping hand to the locals, whether it be by befriending, giving lifts to medical appointments, doing the shopping or collecting prescriptions. They have also delivered over 200 food boxes since lockdown. Mission: Foodbank's selfless work has meant that over 25 tonnes of food has been delivered to people who cannot afford to eat, supporting around 500 families in the district.
Winners received £100 for taking home the Volunteer and Young Volunteer of the Year honours, with a £50 reward for the runners-up. The winning Community Group of the Year was awarded £1,000, whilst £500 went to the runners-up.
BHIB Charities Insurance, Central England Co-operative and Love Blaby Lottery all sponsored the award categories, which also gave the opportunity for Volunteer and Young Volunteer finalists to donate £750 and £500 each respectively to a local community group of their choice.
Sharon Coe, Blaby District Council's portfolio holder for Health, Wellbeing, Community Engagement and Business Support, said: "It's an honour to be able to recognise these volunteers and community groups whose incredible work makes our district such a welcoming and supportive place to live.
"Their efforts have been more important than ever, particularly in the last year, and we congratulate the winners and runners-up for their amazing work.
"We also cannot forget all of the other volunteers and voluntary groups who make a difference in other people's lives. Thank you so much.
"We are grateful to our award sponsors, whose generous donations helped make these awards a reality."
07 October 2021
Did you find what you were looking for on this page?