Everards Meadows offers training opportunities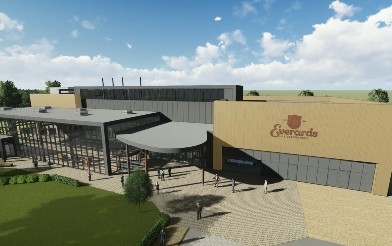 Local people have been taking advantage of training and employment opportunities on the Everards Meadows development.

The exciting new food, drink and leisure development next to Fosse Park is quickly taking shape. It will become the new home to Everards, Rutland Cycling and a new café, with the first phase set to be completed in July 2019.

As part of a planning requirement, Everards has been working with its main contractor, Kier, an infrastructure services, buildings and housing developments group, to bring local employment, skills and training initiatives to the construction site. The family brewery and Kier have been working with Blaby District Council and Leicester City Council to deliver a host of activities, including work experience placements for college, school students and graduates.

Site tours for university students have also been organised, enhancing learning in the hope of increasing the recruitment prospects of young people. Apprentices and trainees employed within the supply chain are benefitting from onsite skills training and jobs on-site have been secured by local people.

The training and employment opportunities will continue into the next phase of construction, building the new home of Everards with its brewery, beer hall, visitor experience, shop and offices.

Kier also showcased the Everards Meadows site to inspire the next generation of construction recruits by taking part in Open Doors Week, a campaign designed to invite members of the public to take a look behind the hoardings of a 'live' construction site. More information about Open Doors can be found by visiting http://opendoors.construction.

John Richardson, Strategic Director at Blaby District Council said: "This fantastic partnership has given local people a great opportunity to benefit as the exciting vision for Everards Meadows now becomes a reality.

"The initiative at Everards Meadows complements similar work we are undertaking with businesses on the New Lubbesthorpe development and one that we intend to continue to deliver for all future development schemes of a similar size.

"Once completed, Everards Meadows will become a great tourist attraction with an impressive leisure offer, further enhancing the district as a great place to live, work and visit."

Gavin Colton, contracts manager at Kier, commented: "We're thrilled to work closely with Everards, Blaby District Council and Leicester City Council giving local people training and employment opportunities as works continue at Everards Meadows.

"So far, we have employed local people and created both apprenticeship and work experience opportunities, encouraging people to consider a role in the built environment."

The latest information about Everards Meadows can be found on the website at www.everardsmeadows.co.uk.
01 April 2019
Did you find what you were looking for on this page?