Support local businesses on ShopAppy
Support local businesses on ShopAppy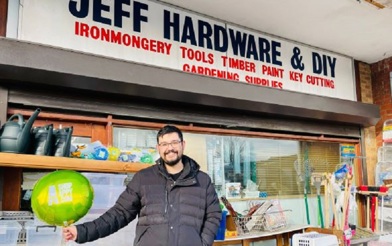 You can now support local businesses at the touch of your fingertips, as Blaby District Council joins forces with the online shopping website ShopAppy.
48 businesses from across the district are currently signed up to the platform for free and have started listing their items for customers to browse, order and buy from numerous independent shops in just a few clicks.
Blaby Town Centre, and its neighbouring villages including Narborough, Enderby and Glenfield, host a diverse range of local independent businesses. From butchers to bakeries, ShopAppy can find a business to suit the shopper's needs, all whilst supporting the local economy.
To celebrate the launch, Blaby District Council and ShopAppy visited Blaby Town Centre on Thursday 24 February. Businesses had the chance to opt in and sign up, whilst locals got the chance to see what's on offer. Each business in Blaby on ShopAppy has a balloon in their window, as well as special QR code cards for customers to recognise shops on the website and find Blaby District's dedicated page more easily.
Councillor Sharon Coe, Blaby District Council's portfolio holder for Health, Wellbeing, Community Engagement and Business Support, said: "Shopping online is more popular than ever, and local independent businesses do not always have the ability to get their services digital.
Our partnership with ShopAppy supports our goal to help businesses expand their reach, all whilst showing shoppers what there is on offer from our very own high streets."
Anyone who registers as a customer on ShopAppy and makes a purchase between 24 February and 11 March is in with a chance of winning one of twenty £10 vouchers available.
The dedicated Blaby District page on ShopAppy can be found on the Shopappy website.
For more information and to get your business on the ShopAppy website, please email caryl@shopappy.com or call 07817 529 835.
ShopAppy is funded for 12 months through HM Government and the European Union Regional Development Fund.
25 February 2022
Did you find what you were looking for on this page?