Street sign for former resident
Street sign gift for former resident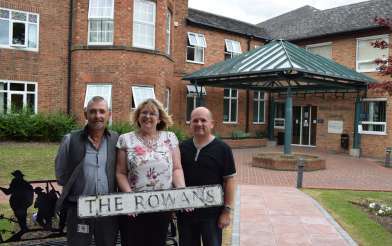 A disused street sign has been gifted to a former Countesthorpe resident with fond memories of living in the district.

Ian Franklin was bought up on The Rowans in the 1970s. Along with his three other brothers and sisters, they enjoyed a happy childhood in the district.

After responding to a resident's report about the condition of the sign it was replaced after being deemed beyond repair. Eagle-eyed Mr Franklin got in touch after seeing the sign had been changed to ask if it had been disposed of. Luckily the sign was still available and the Council happily gifted it to the former Rowans resident.

Speaking of his memories growing up in Countesthorpe, Ian said: "I have many happy memories of growing up at number 11 The Rowans. There were four of us, the cul-de-sac was always full of kids and we used to have a wonderful time.

"We played football in the road, tennis inspired by Wimbledon; I always had to be Bjon Borg! There were always grazed knees and bumps to the head but we had a blast. The Rowans had a very different feel back then, it appears nice and peaceful now whereas it used to be a hive of activity. Kids would come from other areas in Countesthorpe and join in with the fun.

"Sometimes we would wake in the morning to find the cul-de-sac full of bullocks where somebody had left the gate open! All the dads would be out with brooms trying to usher them back in the field, it was quite a spectacle.

"I remember all the different services that used to visit the Rowans. We had the Corona lorry with his brightly coloured fizzy drinks bottles. There was a butcher, a baker, a rag and bone man and the knife sharpening man."

Ian's fond memories of Countesthorpe mean he hasn't lost any love for his roots. He said: "Even now I sometimes find myself drawn to The Rowans and go for a stroll along what is now a proper footpath and reminisce. We knew how to have fun back then, happy days and happy memories."

Councillor Sharon Coe, Portfolio Holder for Health, Wellbeing and Regulatory Services presented the street sign to Ian and his brother Paul. Cllr Coe said: "It is such a privilege to be able to present this street sign – which is so full of memories – to Mr Franklin and his brother.

"Hearing that the Franklin's had such a fantastic time growing up on The Rowans as youngsters over forty years ago is wonderful to hear. We're glad to hear they'll treasure the sign for many years to come."

Mr Franklin has made a donation to the Chairman's charity, Community First Responders, as a thank you to the Council for The Rowans sign.
29 July 2019
Did you find what you were looking for on this page?