See how our Community Grants can help
See how our Community Grants can help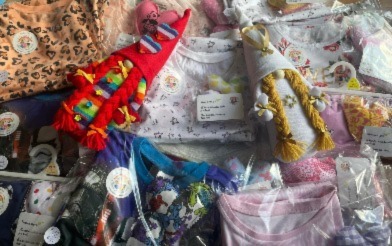 Blaby District Council's Community Grant scheme offers grants from £500-£4,000 for a variety of projects and services. Whether you need funding for a coach or support in making your services green, the scheme can help you.

Children's Hospital Pyjamas received a grant to continue their work of donating pyjamas to young people and children in hospitals, hospices and women's refuges. Ann Dunkley, Charity Coordinator, explained about the support they offer and how the scheme benefited them.
Don't miss the Wednesday 01 June deadline to make big changes to your community group too. Find out more on the Community Grants web page.
How did the Children's Hospital Pyjamas start?
In November 2010, our founder Charmaine had a daughter in hospital, receiving cancer treatment. Whilst in hospital, they were gifted a brand new Peppa Pig scooter that had been donated by another family of a poorly child. When they were released from hospital, Charmaine decided she wanted to give back and she asked friends and family to donate new toys, so she could gift them to her local hospital.
After three years of donating toys, she decided to donate pyjamas instead, as other local families were donating toys and she thought pyjamas were more practical. In celebration of our tenth year, we registered as a charity.
What kind of help and support do you offer?
We collect donations of new pyjamas and monies from members of the public, businesses and other sources. These are distributed, usually in November, to hospitals, hospices and refuges throughout the UK and given to poorly or disadvantaged children and young people.
How did the Community Grant Scheme benefit you?
The Blaby District Community Grant Scheme kindly donated £500 to Children's Hospital Pyjamas this year to be used for the benefit of local residents. As such, I used this donation to purchase 90 pairs of pyjamas, which will all be donated within Leicestershire, for children and young people.
What type of work have you completed locally to the district?
As I live within the Blaby District, I collect pyjamas and monetary donations and I donate these locally. In 2020 and 2021, I donated to Rainbows Hospice for Children and Young People in Loughborough. In addition to this, last year, I also donated to the Leicester Royal Infirmary. This year, I will be donating to both locations once again.
What type of support do you offer nationally?
The charity has grown significantly over the last few years and the support we receive has been amazing! Prior to registering as a charity, we donated 4,855 pairs of pyjamas in 2018. In our first year as a charity (2019), we donated 12,202 pairs. This has continued to increase, as we donated 15,636 pairs in 2020 and 19,289 pairs last year. We now have 50 coordinators and were able to deliver to 127 locations nationwide last year.
How can people get involved?
If you'd like more information about the charity, visit their website.
You can also follow them on social media on Facebook, Instagram and Twitter.


18 May 2022
Did you find what you were looking for on this page?