Sainsbury's volunteers spruce Fosse Meadows
Sainsbury's volunteers spruce Fosse Meadows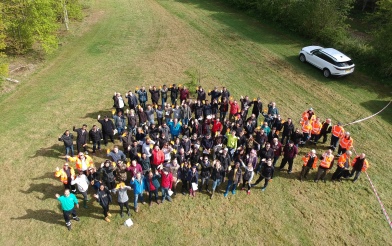 A small army of 100 volunteers from Sainsbury's Coventry offices have been helping out at Fosse Meadows Nature Park to make the open space even better for visitors.

Completing 10 years' worth of work in one day, colleagues from Sainsbury's Store Support Centre in Walsgrave assisted Blaby District Council grounds maintenance team undertake significant improvements to the popular open space.

The volunteers, all from Sainsbury's Technology, Retail and Logistics team, based in Coventry, helped to 'spade' and clear grass from the hundreds of metres of paths, neatening the park's appearance; whilst 10 tonnes of bark mulch has been placed around the fitness and play area to provide additional safety.

Dead branches and logs have been cleared from Fosse Meadows' vast woodland, whilst a team also helped to remove fencing no longer needed.

Sainsbury's 100 volunteers are taking part in helping out at local community areas as part of the giant grocery retailer one hundred and fiftieth birthday.

Paul Coates, Group Manager for Neighbourhood Services and Assets, said: "We are incredibly grateful for the efforts of Sainsbury's colleagues. It's been a day of hard work for their volunteers, but what they have achieved is fantastic and it's a huge help to us.

"Completing a decade's worth of work in a day means that Fosse Meadows will continue to be one of the most popular destinations for families and dog walkers in the area, making the district a great place to visit."

Tony Butler, Head of Technology, Retail and Logistics, at Sainsbury's Store Support Centre, said: "As we celebrate Sainsbury's one hundred and fiftieth Birthday, we wanted to make a real difference to the community we all work in.

"It's really important that we not only have fun as a team by spending time together outside of the workplace, but that we also live our values by giving something back to the environment and community."

For more information about Fosse Meadows and other parks in the District of Blaby can visit the Parks page.
07 May 2019
Did you find what you were looking for on this page?