Re-launch of Parish Liaison events
Re-launch of Parish Liaison events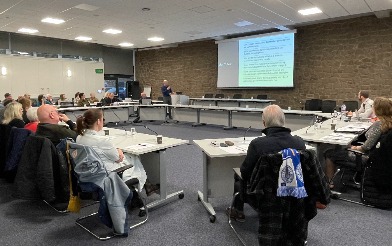 An important meeting for Parish Councils to give their thoughts to Blaby District Council about interests and concerns for the area has been revamped.
Parish Liaison meetings are important sessions that have taken place for a number of years and ensured that open communication has always been in place between Parish Councils and the District Council.
Following the postponement of these meetings in person due to Covid-19, work has taken place between Blaby District Council and the Leicestershire and Rutland Association of Local Councils (LRALC). Working together, a new meeting format has been designed to further improve the collaboration between these layers of local authority.
Four meetings will take place a year. Two Parish Liaison Meetings will be held in March and September and two Clerk Operational Meetings are expected in May and November, designed specifically for Clerks.
These virtual meetings will be dedicated to discussing operational matters and will be available to stream on demand.
The first Open Parish Liaison Meeting will take place on Wednesday 02 March, from 5-6:30pm in Blaby District's Council Chamber. Chairs and Clerks are invited to attend as well as any interested Councillors.
Councillor Sharon Coe, Blaby District Council's portfolio holder for Health, Wellbeing, Community Engagement and Business Support, said: "Our work with the LRALC to redesign and reinvigorate these meetings will help us work even closer with Parish Councils to raise points that may have been missed before and strengthen our partnership.
All Parish's views are important and we hope to see as many as possible at the first meeting back."
Jake Atkinson, Chief Executive of LRALC said: "I am really pleased that Blaby District Council has chosen to work with LRALC to ensure that the liaison activities they undertake with their parish and town councils produce the best result for communities in Blaby.
The last two years have been a very difficult period for everyone, and It is now a critical time to ensure that the different tiers of local government collaborate together to produce the best outcomes for communities that they can."
28 February 2022
Did you find what you were looking for on this page?