Order your 2023 garden waste subscription
Order your 2023 garden waste subscription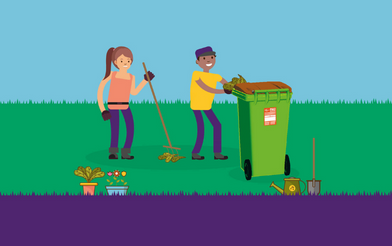 All of Blaby District Council's garden waste collection service subscriptions run annually, and current subscriptions will end on 31 March 2023. Blaby district residents can now subscribe to the service in time for their garden waste bin collections to start on 1 April and run to 31 March 2024.
There are no pro rata reductions for 'in year' payments. To guarantee a bin sticker before the start of the service, residents should subscribe by Thursday 16 March 2023.
New orange garden waste stickers will be issued to all properties who subscribe, and only bins with valid stickers will be emptied. Two sizes are of garden bin are available and residents can subscribe to as many garden waste bins as they need. Online prices start from £28.20, which includes a £2 discount for online subscriptions.
Payment is taken in advance by debit card, credit card or Direct Debit. If you want to pay by Direct Debit for this year's subscription, you must sign up by 15 February 2023. Payments can now be made online by visiting the Garden Waste page.
Existing customers who pay by Direct Debit do not need to do anything as their subscriptions will renew automatically in March 2023. Anyone who subscribes before 16 March will be guaranteed their sticker before 1 April.
Collection dates will remain the same, with collection information available on the collection dates page.
11 January 2023
Did you find what you were looking for on this page?