National award for New Lubbesthorpe
National award for New Lubbesthorpe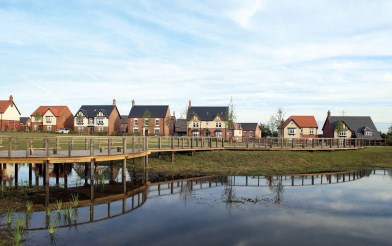 The 4,250-home New Lubbesthorpe development has received its SIXTH award, recognised nationally at the 2020 Royal Town Planning Institute Awards.

Blaby District Council won the award in the "Planning Excellence" category at the award, which were held remotely due to the ongoing coronavirus. The development is being delivered in partnership with landowners Drummond Estates, housing developers and partners in both the public and private sector.

Summing up the development, the Royal Town Planning Institute judges said they: "Admired the way in which they were able to engage with a range of stakeholders, including Highways England and persuaded them to invest in a 20-year plan for the community."

It was also described as an 'excellent example of good planning practice', with New Lubbesthorpe demonstrating a 'commitment to diversity and sustainability.'

Preparations for New Lubbesthorpe began back in 2008. Constructed over twenty years, New Lubbesthorpe, once completed, will be a community with 4,250 houses, including 873 affordable homes, three schools, a health centre, leisure centre and open space. A planned District Centre will include a supermarket, small shops, café and restaurants.

More than 400 houses are now occupied and 40 pupils have started at the first primary school, which opened in September 2019. The £15m bridge over the M1, completed in 2017 has ensured transport links for easy access to the city centre and Junction 21 of the M1.

Councillor Ben Taylor, Portfolio Holder for Planning, Housing Strategy and Economic Development, said: "This is fantastic news for everyone associated with New Lubbesthorpe. We are so proud that this development in Blaby District continues to gain national recognition and this is testament to the years of hard work by our Planning Officers and valued partners to ensure the residents of the area have a sustainable, thriving community.

"Other local planning authorities and even a local school GCSE Geography trip have visited the site to take inspiration from this development. We'll continue our collaborative working over the coming years to continue the great work that has taken place so far."

Blaby District Council has won five other awards for New Lubbesthorpe, over the last two years, including the 2019 Local Government Awards for "Best Housing Initiative."

More information about the development is available on the Lubbesthorpe webpage.
30 April 2020
Did you find what you were looking for on this page?