National Apprenticeship Week
National Apprenticeship Week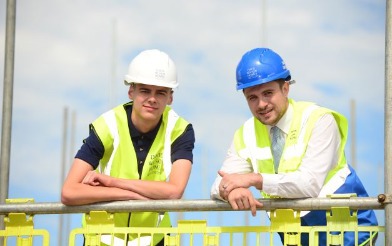 This week (07-13 February 2022) is National Apprenticeship Week, where we recognise the positive impact apprenticeships make on individuals, businesses and the wider economy.
Blaby District Council has helped residents to find apprenticeships which have become the basis of their careers.
One such resident was Josh McCabe, who had bricklaying apprenticeship with Barratt Homes around four years ago. He is now a self-employed bricklayer. Josh spoke to Blaby District about his experience, and the career path it paved for him:
What inspired you to apply for a construction apprenticeship?
I had the option at secondary school to undertake a construction qualification B-Tech Level One alongside my GCSE choices. This then led to an opportunity to complete some work experience with Barratt Homes.
What hours do you usually work?
7.30am until 3.30pm.
Where is your work largely based, and how long do you spend in each location?
I am based in Wigston, Leicestershire. The site opened around three years ago, the same time I started my apprenticeship.
What advice would you give your sixteen-year-old self, or others this age?
To follow a career path you are interested in. Look at all the options that are available - not just academic qualifications such as A Levels, but apprenticeships too before making a decision.
What is your current role?
I am a Self-employed Bricklayer.
What is your next career goal?
To be in charge of a team and have other bricklayers working for me.
Ultimately, what is your future career ambition?
To pass on my skills and trade - teaching students at college.
Would you recommend the Barratt Apprenticeship Scheme?
Yes I would - 100 percent. I have been well supported throughout my apprenticeship thanks to the Barratt Apprenticeship Scheme.
Our dedicated Building Blaby Future's page shows people interested in a skilled construction workers for the future how we can help.
Also find out more on the official Apprenticeships Gov.Uk page.
08 February 2022
Did you find what you were looking for on this page?