Milestone for new prison at Glen Parva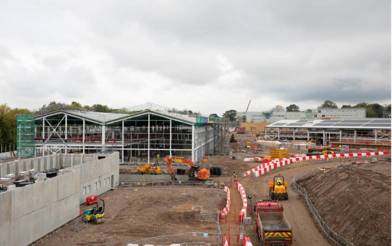 A Topping Out ceremony to mark the latest milestone in the construction of the new prison at Glen Parva has taken place.

The new prison is expected to be completed in 2023 and sits on the site of the former Young Offenders Institution, and will house up to 1,700 prisoners and create up to 600 new jobs for local people. The new structure is being built with green in mind, with rubble from the old, demolished prison on this site has been reused.

Green energy will also see more than 960 solar panels and infrastructure for electric vehicle charging points. Power generators during the construction have used specially treated vegetable oil – cutting CO2 by 90 per cent and helping the air quality in Glen Parva.

Leader of the Council Councillor Terry Richardson, Portfolio Holder for Planning Delivery Councillor Ben Taylor, Portfolio Holder for Community Services Les Philimore and Chief Executive Julia Smith attended the ceremony as the final levelling of concrete on the structure was completed.

Blaby District Council has worked closely with Lendlease, the company contracted to build the new prison, to maximise the number of opportunities for community involvement in the new prison.
Initiatives have included school educational visits for students interested in construction, helping local businesses access routes to tender for work on the site and ensure the Council's Youth Council have played an active role.

Deputy Prime Minister Dominic Raab and local MP Alberto Costa also attended the ceremony, praising Blaby District Council's work to support the new prison's development.

Councillor Terry Richardson, Leader of the Blaby District Council, said: "We are delighted to see the progress that has been made on the site of this new prison. It has been fantastic to work with the Ministry and Justice and Lendlease on this project to enable local residents, our young people and local businesses to take advantage of the unique opportunities that have emerged from this construction.

"We will continue our strong relationship as the prison opens to make sure that the local community are kept up to date with the latest news, and can have their say long into the future."
17 November 2021
Did you find what you were looking for on this page?