Local students visit New Lubbesthorpe
GCSE students visit New Lubbesthorpe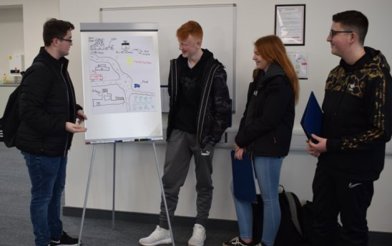 The award-winning New Lubbesthorpe is now part of the local GCSE curriculum after playing host to students from a local college in preparation for their summer exams.

More than 80 year 11 students from Brookvale Groby visited the area as part of their Geography work, using New Lubbesthorpe as an example of a sustainable new community. The topic of sustainable communities will be on the exam in June.

Students were given a detailed presentation about the history of New Lubbesthorpe with an explanation about why the site was chosen as well as how the project will be run until the development is expected to be complete in 2037.

Three practical sessions were included to put the student's skills to use, including a traffic survey and a session with Blaby District Council's Green Officer to look at designing an ideal sustainable house. The third session provided an insight from the Council's Community Development worker the work with key partners and organisations to create a strong sense of community at New Lubbesthorpe.

There are more than 400 properties occupied on New Lubbesthorpe, with 4,250 homes on site once completed. The first primary school opened in September with one more primary school and a secondary school to be opened in the coming years.

Local centres with shops and leisure facilities will also be added as well as a second business park to be opened in the later stages. New Lubbesthorpe has won three awards over the last year, and has been shortlisted for "Planning Excellence" in the Royal Town Planning Institute Awards 2020.

Councillor Sharon Coe, Portfolio Holder for Health, Wellbeing and Regulatory Services, said: "It was a pleasure to host the students from Brookvale Groby as part of their exam preparation. We are proud that the college were keen to use New Lubbesthorpe as an example of sustainable development.

"New Lubbesthorpe is an award-winning community and the students who visited may be future home owners in the area! I want to wish the best of luck to all of the students in their Geography exam this summer."

More information about New Lubbesthorpe is available on the website.
04 March 2020
Did you find what you were looking for on this page?