Ice House work underway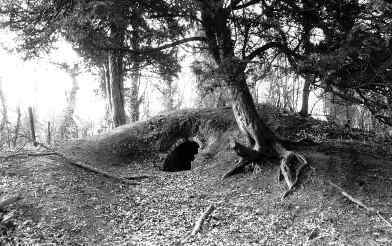 Refurbishment work on the historic Ice House in Bouskell Park, Blaby is underway.
The £173,000 project is funded with £156,000 of National Lottery Heritage Fund money, which will restore the ice house and explore its history.

Dating back to around 1843, the Grade II Listed Ice House was the storage facility for the Victorian manor house, Blaby Hall. A popular method to store ice from the nearby lake to keep Blaby Hall's food supplies cold, the Ice House was an important addition to the estate.

However, the full historical and archaeological features remain relatively hidden. Over the next 12 weeks, the restoration project will help to preserve its structure and heritage for the future.

Work taking place includes:
A new hardwood retaining structure around the mound
Repairing and rebuilding of the tunnel entrance
A new door
A new dome lid/cover
Reshaping the mound soil
New railings to the boundary site
Landscaping of the mound and the area around the mound
New Signage
A community archaeological dig is also planned during the work with both local volunteers and schools, and will be announced in the coming days.

Councillor Sharon Coe, Portfolio Holder for Health, Wellbeing and Regulatory Services, said: "We are incredibly excited for the start of this fantastic project. The National Lottery Heritage Funding has given us this unique opportunity to restore and preserve a historic and rare site for future generations.

"Our goal is to see the Ice House become a tourist attraction for the district, boosting tourism to the area, and we'll be hosting guided visits and community events."

Updates on the project will be available throughout the 12 weeks. For more visit www.visitblaby.org.uk or visit the Council's Facebook and Twitter to follow progress.
03 September 2020
Did you find what you were looking for on this page?