Blaby District honours sporting superstars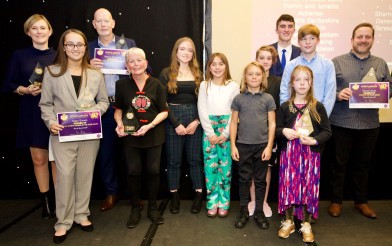 See all photos from the Sports Awards on our Flickr page
For its tenth year, the Blaby District Local Sports Alliance Awards welcomed the sporting community as the winners and runners-up were announced in eight awards categories on Tuesday 19 November.

Hosted for the first time at the Marriott Hotel, and presented by BBC Radio Leicester's Ian Stringer to a record attendance of over 225 guests, including the finalists and their families, Blaby's sporting community came together to enjoy the evening and honour the finalists for their achievements.

The awards were sponsored by Everyone Active, who manage the Council's Enderby Leisure Centre and the Pavillion in Huncote and also featured a question and answer session with Leicester City legend Steve Walsh.

Winners included Braunstone Swimming Club's record-breaking Alex Casey, who won Young Sports Person of the Year after breaking the county record and finishing sixth at the British National Championships, as well as seven gold medals at the County Championships.

The Sport Person of the Year (with a disability) was awarded to Imogen Bowen. A member of Huncote Hearts GTC, the international gymnast and trampolinist won four gold medals in the Down Syndrome International Gymnastics competition back in June, and won the county's trampolining competition last November.

Michaella Glenister was honoured with Sports Person of the Year. The GB swimmer won four medals at the British National Championships and won silver in a 1.5km open water race in Mallorca. Michaella took nearly 20 seconds off her personal bests in the European Junior Championships, representing Great Britain in the 400m, 800m and 1500m.

In the Special Recognition Award, three of the district's sporting stalwarts were honoured for their work. Runner-up Dave Eabry of Vipers RFC was honoured for dedicating at least 15 hours of his time to the club for over 13 years, ensuring the club can function and organising events for the club's 900 youngsters to take part in rugby.

Second runner-up Martin Stanley has helped secure the long-term future of Saffron Dynamo FC by securing nearly £1million in funding over his decade of volunteering, and recently secured nearly £500,000 for a 3G artificial pitch.
Braunstone Swimming Club's Kara Shepherd was the Special Recognition winner. Her 22 years and countless hours of service to the club and numerous roles, from admin to Chief Coach, has helped young swimmers thrive, including two of this year's awards finalists.

John Richardson, Strategic Director at Blaby District Council, said: "We are immensely proud to host these awards and we are grateful to Everyone Active and the numerous other sponsors whose contributions help to make these awards happen.

"The Sports Awards are our chance to highlight the incredible sports stars and volunteers in the area. Whether it's personal achievement or helping to run our local sports clubs, each and every one deserves their recognition."
For more information about funding that talented young athletes can access, visit www.lrsport.org.
Active4Life – Health and Wellbeing Award (Sponsored by the Blaby Lottery)
Winner: Jill Larter – Falls Prevention Exercise Class
Runners-up: Anne Warner and Martyn Shephard
Young Sports Person of the Year (Sponsored by The Roseacre Pub Company)
Winner: Alex Casey (Braunstone Swimming Club)
Runners-up: Tegan Grewal (Bowling – Kirby Muxloe Bowls Club) and Yasmine Sheffield (Athletics)
Community Engagement (Sponsored by Leicestershire Rugby Union)
Winner: Emma Tomlinson – (Vipers RFC, Blaby)
Runners-up: Greenfield Primary School (Beat the Street initiative) and Steve Hastings (Kirby Muxloe FC)
Coach of the Year (Sponsored by Rutland Cycling)
Winner: Mark McKenna (Leicester Sharks Swimming Club, Enderby)
Runners-up: Darwin Davies and Lynne Pearson (Kirby Muxloe Archery Club)
Sports Team of the Year (Sponsored by Palmers Garden Centre)
Winner: Leicester Forest Junior Rockets Cycling Club
Runners-up: Kirby Muxloe Archery Junior Squad and Leicester Forest Rugby Club under 12's
Sports Person of the Year (with a disability) (Sponsored by Menphys)
Winner: Imogen Bowen (Huncote Hearts Gymnastics and Trampolining Club)
Runners-up: Lydia Kettlewell (Narborough, Karate) and Toby Sweeney-Croft (Athletics)
Sports Person of the Year (Sponsored by Everards)
Winner: Michaella Glenister (Leicester Sharks Swimming Club)
Runners-up: Maisie Elliott (Braunstone Swimming Club) and Libby Smith (Leicester City Ladies)
Local Sports Alliance Special Recognition Award (Sponsored by Fosse Park)
Winner: Kara Shepherd (Braunstone Swimming Club)
Runners-up: Martin Stanley (Saffron Dynamo FC) and Dave Eabry (Vipers RFC)
22 November 2019
Did you find what you were looking for on this page?