Growth Plan to Guide development
Growth Plan to Guide development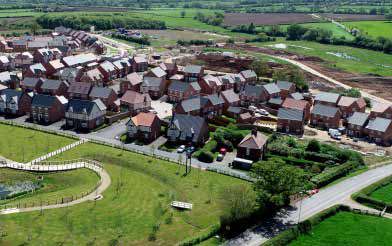 Blaby District Council's Growth Plan, which commits to six key non-negotiable principles for future development, has been approved by Councillors.
The eight-page Growth Plan, adopted at an Extraordinary Council meeting in February, will sit with the newly approved Local Plan and the Leicester and Leicestershire Strategic Growth Plan. It sets out the Council's ambition for the delivery of future houses, infrastructure and jobs in the district; and demonstrates a clear commitment to proper place-shaping.
To ensure that all development fits with the Council's vision for future growth; six principles have been set out to demonstrate a commitment to quality and effective place-making.
Infrastructure Led requires development to be accompanied by planned and funded infrastructure such as roads, schools and health care.
Integrated and Self-Sustaining will ensure that a focus is placed on the health and wellbeing of new, 'whole-life' communities that produce more energy than they consume. Active and Healthy secures the obligation for large-scale development to include a full-range of specialist housing, dementia friendly homes and connected open spaces for walking and cycling.
Well Designed will see high-quality; innovative design that considers the local character of the area and all new large developments wherever possible will be in the form of Garden Villages. Well Connected relates to how linkages between new and existing communities are formed, actively promoting non car travel and positively promoting environmental sustainability.
Finally, Accessible Employment, Business and Skills supports local business and training opportunities. Developers will need to work with new and existing schools and colleges to ensure the right training opportunities can be delivered. They will also need to show a clear plan of how local residents and businesses will be prioritised in employment opportunities and the supply chain.
Jane Toman, Chief Executive of Blaby District Council, said: "The adoption of this plan is an extremely important milestone for our District. We will seek to ensure that any growth to the District of Blaby is positive and that we can shape what it looks like.
"We are committed to ensuring that any future development in the District is of the very highest quality; and that it doesn't happen at the expense of our existing communities.
"Developments such as New Lubbesthorpe already take into account these key principles, and the Growth Plan sets in stone our commitment to make the district a great place to live for both new and existing communities."
The Growth Plan principles will provide a strong steer for the Council's next Local Plan, which will look at where housing, employment and infrastructure is to be provided over the next 15-20 years.
The first step in this process will be a 'Call for Sites' – inviting developers and landowners to put their sites forward for formal consideration. More information can be found on the New Local Plan section of the website.
07 March 2019
Did you find what you were looking for on this page?