Give your pre-loved goods a new home this spring
Give your pre-loved goods a new home this spring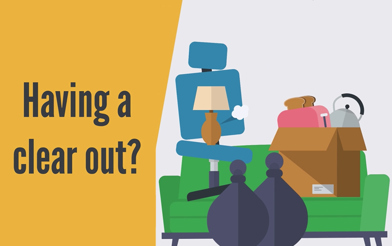 Spring is in the air and for many of us, it's the time of year for a big clean and sort out.
In the rush to dispose of unwanted items, some people can end up using unlicensed waste collectors who might dump your waste wherever they want, leading to an increase in fly-tipping.
As well as creating a negative impact on the environment, fly-tipping is an unnecessary eyesore and blight on our district.
You can help reduce the risk of your pre-loved goods being dumped by giving them a second chance in a new home.
There's a number of ways you can recycle your items instead:
Donate to charity shops
Take your unwanted items to a local charity shop - some charities will also collect from your home for free. Due to current COVID guidelines, it's always best to get in touch with the shop before your visit. To find out where your nearest charity shops are and ways to donate, visit www.charityretail.org.uk/find-a-charity-shop
Donate through online giveaway sites
You can donate your items through websites such as www.freecycle.org or www.ilovefreegle.org.uk The idea is that it's a recycling community, so as well as giving, you can get items for free too.
Sell your unwanted items online
Whether it's Facebook Marketplace, eBay, Gumtree, Preloved, Shpock or any other reselling site, this gives you the chance to easily sell your unwanted items and make a bit of money.
Even if your items can't be re-used, you can still have them responsibly disposed of:
Bulky item collections
Our bulky item collection service takes away unwanted household items that are too big for your bin. For a full list of items collected, prices and how to book, visit www.blaby.gov.uk/bulkies 
Take items to recycling centre
Leicestershire County Council's recycling centres take unwanted goods. Due to current COVID guidelines you will need to pre-book an appointment before your visit. To find your nearest visit www.leicestershire.gov.uk/environment-and-planning/waste-and-recycling/find-a-recycling-and-household-waste-site 
16 April 2021
Did you find what you were looking for on this page?