Future planning session inspires students
Future planning session inspires students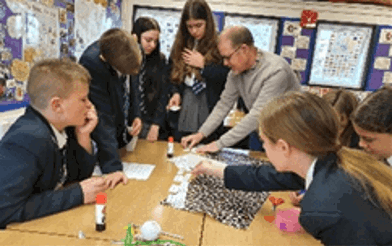 Students from Thomas Estley Community College have been given a valuable insight into the world of work at a workshop organised by Blaby District Council.
Year 8 students studying textiles taking part in a Curriculum Support Activity were shown how the subject can help them in their future careers. The event was organised by the Council in partnership with Fosse Shopping Park, with Centre Manager Adrian Young and Retail Manager Neena Lodhia speaking about the opportunities available working in retail.
The Council is hosting workshops for local students with local businesses to build awareness and relationships for younger people soon to be the workforce of the future, as well as promoting local and greener opportunities for them.
Adrian Young, Centre Manager from Fosse Shopping Park said: "We really appreciated the opportunity to take part in this presentation and workshop session on behalf of Fosse Park. We're delighted that the students found it worthwhile.''
One textile student said: "It was really interesting learning about all the different pathways from GCSE to A-levels and BTECs. It made me start to think about the different routes I could take."
A fellow student also added, "There are so many different careers that are out there - I had no idea that all those jobs in retail existed."
08 December 2021
Did you find what you were looking for on this page?