Free money saving advice for Blaby District businesses
Free money saving advice for Blaby District businesses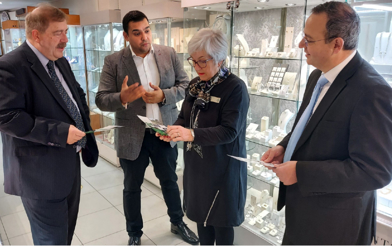 Businesses in Blaby District will be able to benefit from free advice by a leading money-saving consultancy, in a project funded by Blaby District Council.
At a time when running costs are rising and financial pressures continue to be felt by small businesses, the Council has teamed up with Place Support Partnership, a leading consultancy who have worked with businesses across the country to identify money saving opportunities.
From card machine fees to gas, water and electricity the service will be completely free for any businesses who receive advice on reducing their running costs.
Funded by Welcome Back Funding, which the Council successfully bid for from Central Government and the European Regional Development Fund to support all businesses in the district, the move is part of Blaby District Council's commitment to help its local centres recover following the Covid-19 pandemic.
Blaby District Council Leader Councillor Terry Richardson attended the launch with Alberto Costa, MP for South Leicestershire and Rishi Sood, Managing Director of Place Support Partnership at Blaby Town Centre based Barry Botts Jewellers.
Councillor Sharon Coe Portfolio Holder for Health, Wellbeing, Community Engagement and Business Support, said: "I am delighted to help launch this new service. It is still so important that we continue our support for small businesses in the district whilst they recover from the difficult 18 months we have all experienced.
"We hope that the support and advice given will see big financial savings for our local businesses and look forward to working with Place Support Partnership on this service.
Alberto Costa, MP for South Leicestershire, said: "Small businesses are the backbone of our local and national economy, however the last 18 months or so has been particularly difficult for so many up and down the country, hence why I am very pleased to see that Blaby District Council are launching this new service to help support businesses in South Leicestershire.
"I am sure many will benefit from this new money saving advice service, and I should like to thank Blaby District Council for once again being proactive in supporting local businesses as we continue our recovery from the Covid pandemic".
Blaby District-based businesses interested in accessing this free support can visit www.placesupportpartnership.com or call 03330 156 289 for more information.


26 November 2021
Did you find what you were looking for on this page?