Enderby Brass Band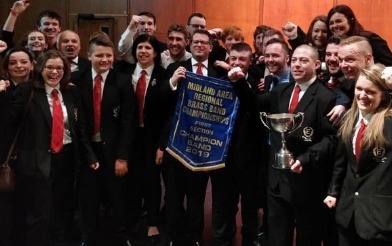 Enderby Band are a prominent group in the district, bringing music and joy to the area for over 150 years. Now looking for new rehearsal space, President of the band Garry Sleath told us all about the group. 
Tell us a bit about the Enderby Brass Band
The Enderby Band was originally thought to have been formed in 1893 although recently uncovered evidence suggests it might have been nearer to the 1850's. The organisation is made up of six groups:
Senior Band: Brass and Percussion of all ages
Youth Band: Brass and Percussion between 12-18
Junior Band: Brass and Percussion learners of all ages
Concert Band: Brass and Percussion of all ages
Wind Band: Woodwind, Brass and Percussion
Apprentice Band: Woodwind and Brass
How active are you in the local community?
The Enderby Band Organisation is very active in both the local and wider communities and has been for many years.
Some prime examples include helping raise around £20,000 for the children's charity 'Rainbows' through concerts at DeMontfort Hall. Our Youth Band also fronted the BBC Radio Leicester Christmas Carol service for years.
The Concert Band has played for the Blaby Baptist church helping them raise funds and the Wind Band has performed in Countesthorpe College raising funds for local groups. This month, the Senior Band will be continuing the now over 100 year old tradition of playing around the Streets of Enderby and at St. Johns, on both Christmas Day and Boxing days mornings.
You're on the hunt or a new rehearsal venue and storage. What type of settings are you looking for?
We are desperate to find both short term and long-term solutions. In the short term we need immediate access to a rehearsal room for Monday, Tuesday, Thursday and Friday evenings. We are also desperately in need of appropriate storage facilities that would be secure, dry and accessible.
In the long term, we would like to have a replacement for our previous double mobile. This facility, which would be used virtually every night of the week, would comprise of two separate practice areas, storage facilities and two or three smaller office type rooms. Ideally there would need to be adequate parking for up to 20 vehicles. We would be very keen to share this facility with other community groups which meet in the daytime.
How can people contact the group? 
Enderby band cater for all ages and abilities. People can contact the Enderby Band Organisation through the website, email:garrysleath1@gmail.com or via the telephone: 07847 645442.
15 December 2021
Did you find what you were looking for on this page?