Electric road sweeper trialled
Electric road sweeper trialled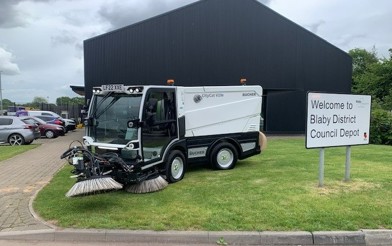 Following the successful trial of an electric bin lorry in 2021, Blaby District Council has now trialled an EV road sweeper.

The "Bucher CityCat V20e" compact sweeper was used by the Council's District Cleansing team earlier in June, and hit the district streets to clean the pavements and roadsides in villages across the local area.

Working on a 63KWh battery, the EV sweeper was able to operate on the same round as normal to its diesel equivalent with plenty of battery to spare. The sweeper was praised by the Council's team for its smoothness, efficiency and responsiveness.

District Cleansing crews were also swept away by the noise difference compared to a diesel sweeper, with the EV version proving far quieter, which could aide Blaby District Council's early morning operations.
Councillor Nigel Grundy, Portfolio Holder for Neighbourhood Services and Assets, said: "Once again another trial of an electric vehicle has swept us away. We were very impressed with how it functioned and how quiet it was.

"These positive trials are going to make it easier for us to decide the long-term vision for our fleet. We are committed to being a carbon neutral council by 2030 and this is yet another promising sign of things to come."

The trial of the compact sweeper and the EV bin lorry in 2021 are part of Blaby District Council's commitment to move towards fossil fuel alternatives to power its vehicles, and are assessing any infrastructure improvements that may be necessary to move to greener alternatives.
13 June 2022
Did you find what you were looking for on this page?