Electric bin lorries trialled
Electric bin lorries trialled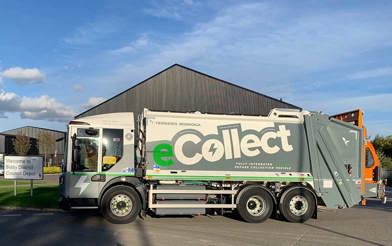 Blaby District Council has taken the exciting step of trialling an electric refuse and recycling bin lorry for waste collections.

The "Dennis E-Collect Refuse Collection Vehicle" will be with the Council for one week and will collect on the same route as a normal diesel-powered lorry. On a single charge, it will pick up waste from around 1,300 properties during a single day, before travelling to either Syston or Whetstone waste transfer stations.

Once the round has been completed, it will be recharged at the Council's Whetstone depot in around seven to eight hours.

The fully electric lorry has five battery packs which will give the vehicle 300kWh of power and a 200kW electric motor. The lorry will be much quieter than a traditional vehicle and weigh around 26 tonnes.

Councillor Nigel Grundy, Portfolio Holder for Neighbourhood Services and Assets, said: "We are very excited to be able to trial an electric bin lorry in the district. Over the next week the crews and Neighbourhood Services team will test drive these lorries, and see how well they function in the district.

"We are committed to being a carbon neutral council by 2030, and introducing fossil fuel alternative collection vehicles like the E-Collect in the future would be an enormous step in cutting our emissions and improving our air quality."

Blaby District Council are moving towards fossil fuel alternatives to power its vehicles, and are assessing any infrastructure improvements that may be necessary to move to greener alternatives.
27 October 2021
Did you find what you were looking for on this page?