Council awarded open spaces contract
Council awarded open spaces contract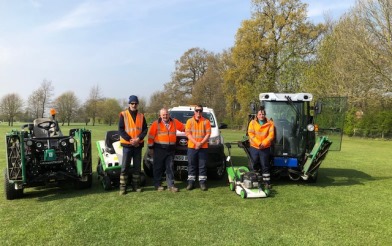 The village of Cosby will be maintained by Blaby District Council's Parks and Open Spaces team after securing a horticultural contract with Cosby Parish Council.
Several high profile areas of the village will have grass regularly cut by the Council under the contract, including Victory Park, pretty corner, Cosby St Michael and All Angels church, and the banks of the brook running through the village.
The District Council's team maintains the parks and open spaces it owns, including Bouskell Park, Fosse Meadows, Countesthorpe Country Park, and Whistle Way. The Council has also secured contracts to maintain many other organisations' open space, including Blaby, Enderby, Thurlaston, and Leicester Forest East Parish Councils.
Paul Coates, Group Manager for Neighbourhood Services and Assets, said: "This contract highlights our commitment to delivering high quality horticultural works at competitive prices. Parks and open spaces are extremely important for local communities and we're delighted to be working with Cosby Parish Council."
Throughout 2018 the Blaby District Council has made significant improvements at many of its country parks, resulting in positive feedback from visitors to parks and the local communities.
Improvements at strategic open spaces will continue throughout 2019 to enhance the visitor experience. Volunteers can get involved in helping maintain the Council's country parks; for more information visit the Parks and Open Spaces section of the website.
16 April 2019
Did you find what you were looking for on this page?