Cork Lane public inquiry begins
Cork Lane public inquiry begins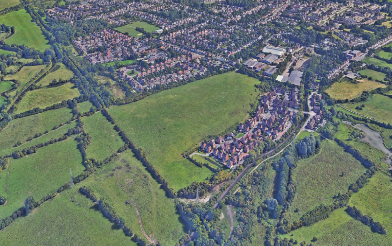 A public inquiry into the refusal of an application for homes off Cork Lane, Glen Parva, takes place this week.
Developers Glen Parva JV LLP, who want to build 165 homes on the site, appealed the decision, made by Blaby District Council Planning Committee Councillors in May this year.
This appeal to the Planning Inspectorate has resulted in the holding of a public inquiry. It starts at 10am on Tuesday 29 November and may last up to four days, although the duration is not fixed and will depend on how the evidence emerges.
The public inquiry will be held in the Council Chamber at the Council's offices in Desford Road, Narborough. Any residents who wish to express a view are welcome to attend.
The background to the inquiry goes back to 2016 when outline planning permission was given to build up to 165 homes on land off Cork Lane, Glen Parva.
A Reserved Matters application was received by the Council in 2019 which sought approval for the appearance, landscaping, layout and scale of the development, which is on a former landfill site.
This application was refused due to concerns the developer had failed to demonstrate the proposed layout could enable remediation and mitigation works to be undertaken to address the risks posed to future occupants and surrounding residents as a result of the site's previous use as a landfill site.
Following the public inquiry, the Planning Inspectorate will either agree with the Council's refusal and 'dismiss' the appeal, or disagree with the decision and 'allow' the appeal, which will grant reserved matters approval.
However, if the appeal is allowed by the Inspector, before any development can actually take place, a further application will need to be submitted to Blaby District Council with regard to addressing the risks associated with contamination of the site.
It is expected that a decision on the appeal will be made by mid-January 2023.
The applicant's grounds of appeal and the Council's associated documents are available for inspection by viewing the planning application documents online and then searching the original application reference number 19/0813/RM.
Anyone requiring further information on attending the inquiry can access further information on GOV.UK website: planning appeals dealt with by an inquiry
28 November 2022
Did you find what you were looking for on this page?