Community Dig underway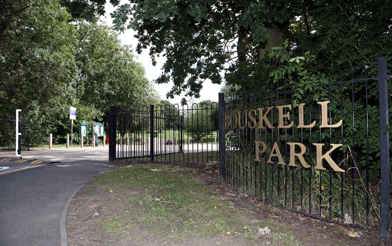 An exciting Community Dig at Bouskell Park in Blaby hoping to uncover the popular park's hidden secrets is underway.

The Buried Bouskell project started in September 2020 as work on the park's Ice House began. Following completion of this first stage in May, the Community Dig will run until Sunday 04 July to find out more about Bouskell Park's history.

Blaby District Council is working with the University of Leicester Archaeological Services (ULAS) to dig a series of 1 metre x 1 metre x 1 metre test pits, with soil will be taken out 10cm at a time.
A reduced number of 120 volunteers across the six days will be taking part in the dig to ensure social distancing measures are followed. Spread across the park, the test pits will be signed and taped off during the week to minimise any risk to users of Bouskell Park.

Research into the park as part of the Buried Bouskell project has revealed that medieval pottery was found during the laying of pathways at the park back in 1997. There is also evidence of medieval farming.

Councillor Sharon Coe, Portfolio Holder for Health, Wellbeing, Community Engagement & Business Support, said: "We are so incredibly excited to start our dig. We have been eager to start this next stage of our project after the extensive work on the Ice House and it is fantastic to finally start work!

"Due to the recent announcement on restrictions we have had to pick our volunteers out of a hat as we had so many interested in taking part. Their efforts will be so important as we look to uncover what Bouskell Park's secrets are."
Mathew Morris, Project Officer for University of Leicester Archaeological Services, said: "Bouskell Park is a fascinating landscape, a well-preserved Victorian pleasure ground covering a much older and more mysterious landscape which is evident in the many earthworks across the park.
"Are these a missing part of medieval Blaby? This is what we are hoping to find out. This project has been years in the making and much delayed over the past year and it is fantastic to finally get going and I'm looking forward to seeing what our volunteers find."

Funding for the project is from a Heritage Lottery Fund Grant, who provided £156,000 of the £171,000 work to restore the Ice House and carry out the Community Dig, with the rest of the funding provided by Blaby District Council.

Updates on the project will be available on the Council's Facebook, Twitter and Instagram pages throughout the week.
29 June 2021
Did you find what you were looking for on this page?