Blaby District employees volunteer across the community
Blaby District employees volunteer across the community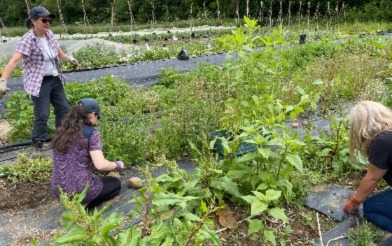 A hugely successful week of volunteering out in the local community by Blaby District Council employees saw more than 150 hours of work completed.
52 employees of the Council took part in the fifth Community Volunteer Week, making a positive difference to local groups and causes. Organised by the Partnerships and Community Development team, the week ran from Monday 06 June to Friday 10 June, with nine key district projects involved.
Employees from Vodaphone also chipped in at Greenfield Primary school in Countesthorpe, transforming a patch of land to form a new sensory garden.
Council team members pitched in with a variety of initiatives, including helping at the sustainable vegetable garden Community Harvest Whetstone, painting at Narborough Bowling Club and assisting zero waste shop Ekoejoe's community allotment based in Blaby. Council employees also spent time taking care of the gardens at Thistly Meadow Primary School in Blaby.
Other tasks included reading with the children at Croft Church of England Primary School and Winstanley High School in Braunstone Town. Staff were invited to support coffee mornings with Glen Hills Library Coffee and Conservation Group as well as the Council's own Armed Forces Coffee Meeting.
Amanda Gordon, Business Manager at Greenfield and Thistly Meadow Primary School, said: "'We are absolutely thrilled with our sensory garden at Greenfield Primary School. The wonderful team from Vodafone worked so hard and the garden has been transformed
"We can't thank them enough, our pupils will get so much pleasure from being in this fantastic space."
Chief Executive of the Council Julia Smith, who read with children at Winstanley High School, said: "Reading with the children at Winstanley High School was so worthwhile, it helped me to understand the district and the communities a bit more, and developed my parking outside a school at 9am skills.
"The children were so polite and really appreciated somebody coming in to read with them. I learnt about earthquakes, Lionel Messi and even some Harry Potter!"
For more information about the Council's work with our voluntary and community sector, e-mail VCShub@blaby.gov.uk. If you want to get involved with volunteering, you can also find a host of volunteering opportunities on our dedicated web page.
15 June 2022
Did you find what you were looking for on this page?