Active travel award for Danemill
Active travel award for Danemill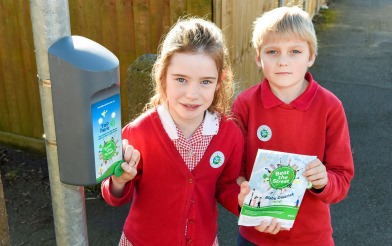 Partnership working between Danemill Primary School, Blaby District Council and Leicestershire County Council has helped the school win a regional award for its work to reduce alternatives to car use.

Danemill were named Leicestershire School of Year at the Modeshift STARS Regional Awards. The school, located on Mill Lane in Enderby, has been working to promote alternatives to car use to parents. Working with both the District and County Council, a number of successful initiatives were undertaken to encourage less car use.

Working with Blaby District Council, Danemill pupils took part in the Balanceability programme. Each course is designed to help early years pupils gain confidence, spatial awareness and balance skills on a bike to enable young children to cycle without stabilisers. Leicestershire County Council also delivered a Bikeability programme for year six pupils to gain an understanding and confidence in riding safely on the road.

The school were also heavily involved with Blaby District Council's Beat the Street initiative, helping to promote it across the district and reach more than 10,000 people. Their proactive work has also seen travel and parent surveys to help understand the solutions available, they received a £1,000 active travel grant from the County Council for their 'daily mile' track.

Teresa Neal, Group Manager for Regulatory Services, said: "We are so pleased to see Danemill being recognised for their fantastic work. The location of the school can cause congestion issues, affecting the whole village. Their determination to try and reduce this problem and encourage alternative travel is something we have been delighted to support.

"Leicestershire County Council's Choose How you Move team have also been instrumental in ensuring Danemill have become a leader for primary schools in promoting active travel to parents, pupils and staff."

Any schools interested in Balanceability or helping to promote alternative travel can contact Blaby District Council by emailing activetravel@blaby.gov.uk.
03 December 2019
Did you find what you were looking for on this page?