A day with District Cleansing
A day with our District Cleansing Crew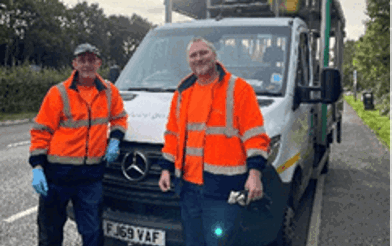 Our District Cleansing crew look after the district, ensuring the streets are tidy and public space bins are emptied. This team spend most of their time out in the open interacting with residents, but do you know what their job really entails? We spent a day with Jimmy and Tony to see just what a day in their life looks like. 

Starting out at 7am every morning, each member of the team sets off to their area of the district to empty litter bins. On a Monday, Blaby and Whetstone is the focus for Jimmy and Tony, emptying 110 bins! Their day can see them travel up to 60 miles, according to Jimmy. 

But it's not just our litter bins that need emptying. Jimmy, Tony and the District Cleansing crews also deal with fly-tipping, litter picking, graffiti and more. No day is the same!

Jimmy has been a part of the team for a couple of years now, and Tony has amassed an impressive 21 years. It's not the easiest task for Jimmy, Tony and our other district cleansing team members, all bins need to be emptied every week, whatever the weather! They do take enormous pride in the fact that they are responsible for keeping your communities clean and safe.

You can help Jimmy and Tony by continuing to keep our streets and parks tidy. Please remember to throw away domestic rubbish in your own bins and report fly-tipping if you see it. And most importantly, give a smile if you see a member of the crew around - a little goes a long way as they are a hugely important part of our community. 
18 November 2021
Did you find what you were looking for on this page?